Views: 7764
Read Time:
2 Minute, 9 Second
If you like my own Natura 1600 recipe, you'll probably love this 2nd version. In this new version, I've tweaked them a lot so that it looks a lot better in both indoor and outdoor shots when comparing with the previous one. This recipe makes the image looks a little bit more greenish by using WB Shift, a lot stronger shadow and less sharpening. (Please also read the UPDATE note in the bottom of this article that I remarked on 2021.05.02)
I've tried few indoor shots using this recipe, and I am satisified with the result. I've also tried the built-in flash of my X100V to take some portraits during the sunset/low light environment. It really looks great as the images look like they were taken with my Natura Classica point-and-shoot camera in my old days. Kudos to the the classic negative film simulation! (I am not going to post any testing portraits here, as I don't wanna put myself/my family photos here.)
Most of my previous Natura 1600 photos were taken with point-and-shoot cameras, so it is a little bit difficult for me to compare on the results of the sharpness & clarity. I still have 4 rolls in my fridge although they expired in Dec 2019. I am sure I will shoot with one of them using my Leica gears soon, which presumably the images could be as sharp as taken with X100V, for a more decent comparison. Anyway, because of the high ISO, that most probably could be taken in indoor/low light environment as my camera shutter speed is up to 1/1000s. Let's see!
Here are the sample images taken with my X100V and BPM 1/8 [Note #1], all SOOC with auto-rotate using Snapseed:
Thank you for reading and your appreciation to my recipe. Here are the detail settings that you may want to try: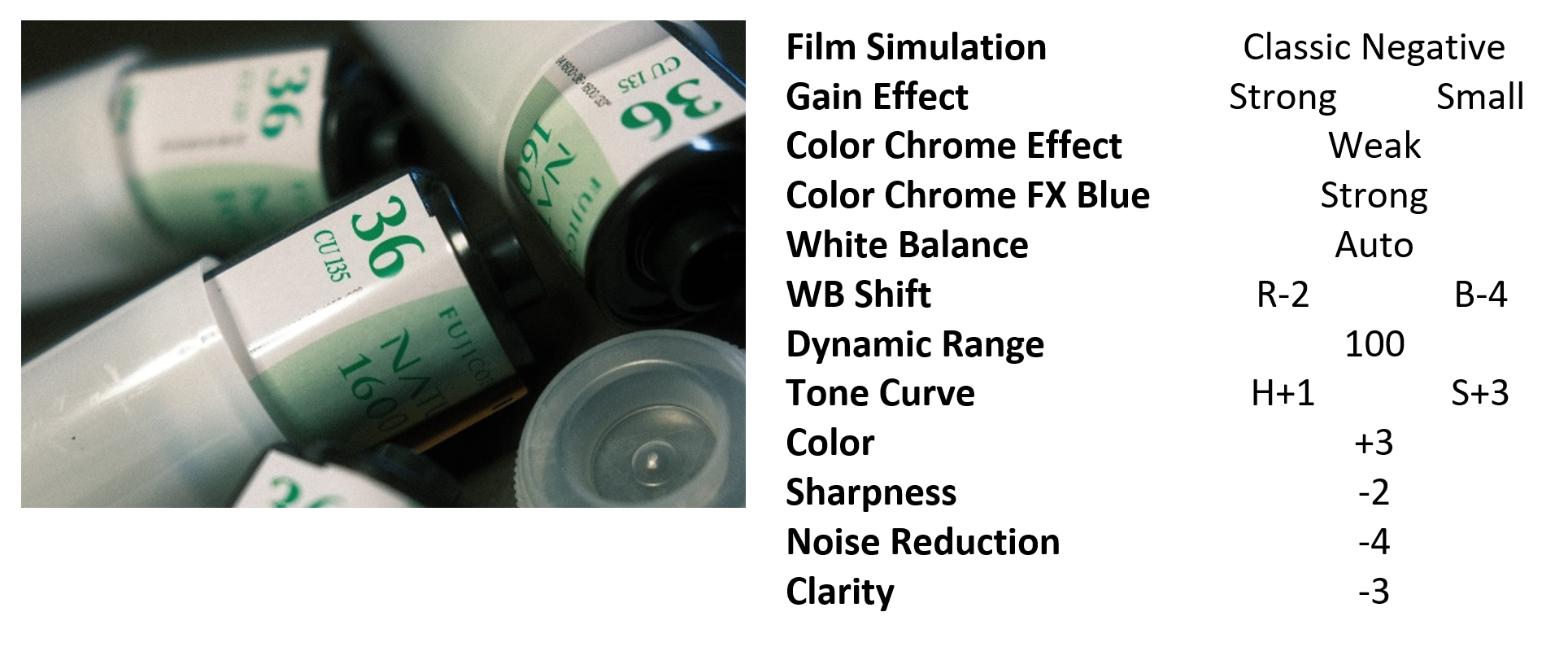 Enjoy!
UPDATE (2021.05.02): If you want a warmer look of the image, you may try another WB SHIFT Tweak using R:-1, B:-6. I would say this tweak generates a more filmic image after I've tried applying it on same set of the images above.
Note #1: If you haven't heard about Diffusion Filter, like the one I'm using from Tiffen - Black Pro Mist, you may take a look from their website here and see how's the effect of their diffusion filters are. Again, it's not an adveristment and I've no affiliation with any company or organization. I built this website by my own.