Read Time:
2 Minute, 27 Second
I feel excited when I've created my first own recipe few weeks ago for my X100V (X-Trans IV processor), which works really really great to me on daily snapshots. I've also tweaked it into version 2.1 during the past weekend, and I love that so much. If you've missed the recipes so probably you don't know what the "cooked images" look like, please refer my previous blog post here.
As these X-Trans IV recipes heavily rely on the Classic Negative film simulation, Chrome Color Effect Blue and Clarity settings, some other X-Trans III/IV camera owners feedback to me that they really wanna try my Natura 1600 recipes on theirs, but they do not have such settings available.
I really appreciate all of your positive feedbacks and nice words from my post in this FB group, I've been encouraged a lot and thus decided to challenge myself in making a X-Trans III version.
As X100V is the only camera I have for now after I sold all my previous Fujifilm cameras, so in order to make this nice recipe I was using my existing X-Trans IV RAW files for testing. I am not sure this makes any difference to the result using X-Trans III RAW files, however, I don't believe that will be significant. Anyway, it's worth to be noted and if you found great discrepancies from my images, please kindly leave me feedback in my blog.
With having side-by-side comparison between the images that applied with different X-Trans recipes, using Fujifilm X RAW Studio, finally I came up my first version of Natura 1600 recipe for X-Trans III (and even X-Trans II) processor. If you don't know what your camera processor is, take a look here.
How's the result?
The nice, smooth transition effect from the lovely blue to bright side became weaker in this X-Trans III recipe (when comparing with my original X-Trans IV recipe). The muted blue-ish tone, which mainly contributed by the strong Chrome Color Effect Blue, was missing due to the blue-ish effect was solely relying on the WB Shift tweaks now.
If you ask me whether it still looks like the actual Natura 1600 film, my answer is "I really don't know". What I can conclude is that this recipe could reproduce about 80-85% look and feel of the images created by X-Trans IV original recipe, and that is yet another great recipe that you should try by your own to feel it.
Here are the sample images created by this X-Trans III recipe. I've tried that on most of my previous images posted in the FB Group, so you could have a gut-feeling of the expected results:
Here you go, and please don't forget to credit my blog if you would like to share the recipe with your friends. Thanks!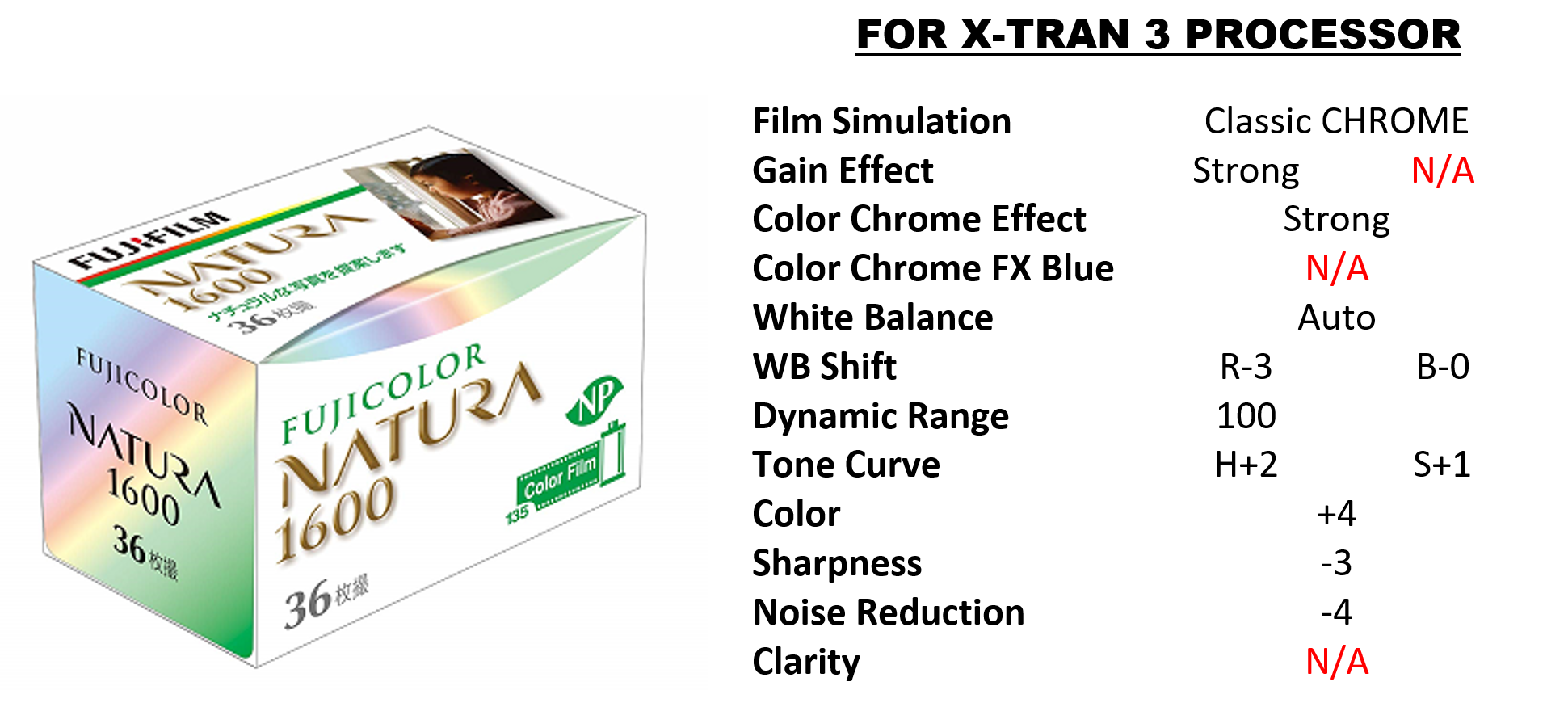 Enjoy!